EJTECH

Formed by Judit Eszter Kárpáti and Esteban de la Torre, EJTECH
[ˈeɪtɛk']
is an polydisciplinary artist duo working with hyperphysical interfaces, programmable matter, and augmented textiles as media to investigate sensorial and conceptual relationships between subject and object, aiming to rediscover networks of emerging structures and immanent causality within realist metamaterialism. Sound, space, light and time as material building blocks are paramount elements in their practice, analyzing the process of unfolding patterns between technology and the human body. Driven by material research, resulting in performative installations, multichannel sonic sculptures and dynamic surfaces. Influenced by the philosophy of New Materialism, Holonic Theory and Somaesthetics, EJTECH aims to provide tools for exploring liminality, thirdspace, and the elusive state of now.
Their work has been presented in galleries, festivals and exhibitions such as Japan Media Arts Festival, European Media Arts Festival, Sensorium Festival, Smithsonian's Hirshhorn Museum, Design Museum Holon, Ludwig Museum, Budapest Kunsthalle, LRRH Gallery, Collegium Hungaricum Berlin, Trafo House of Contemporary Arts, Dutch Design Week, Milan Design Week, Dock 20 Gallery, Horizont Gallery, LOM Art Space, iii Instrument Inventors Initiative, Rewire and many more.
EJTECH has created commissioned art pieces for cultural institutions and commercial brands such as DIOR, Blade Runner 2049, Dune: part two, Material ConneXion among others.
They regularly hold workshops and lectures on new media art and creative technology internationally. Founded the Soft Interfaces Lab in 2020 for further research in soft technology and material ecologies at MOME-IK.
The artist duo currently works and lives in Budapest, Hungary.
we@ejtech.cc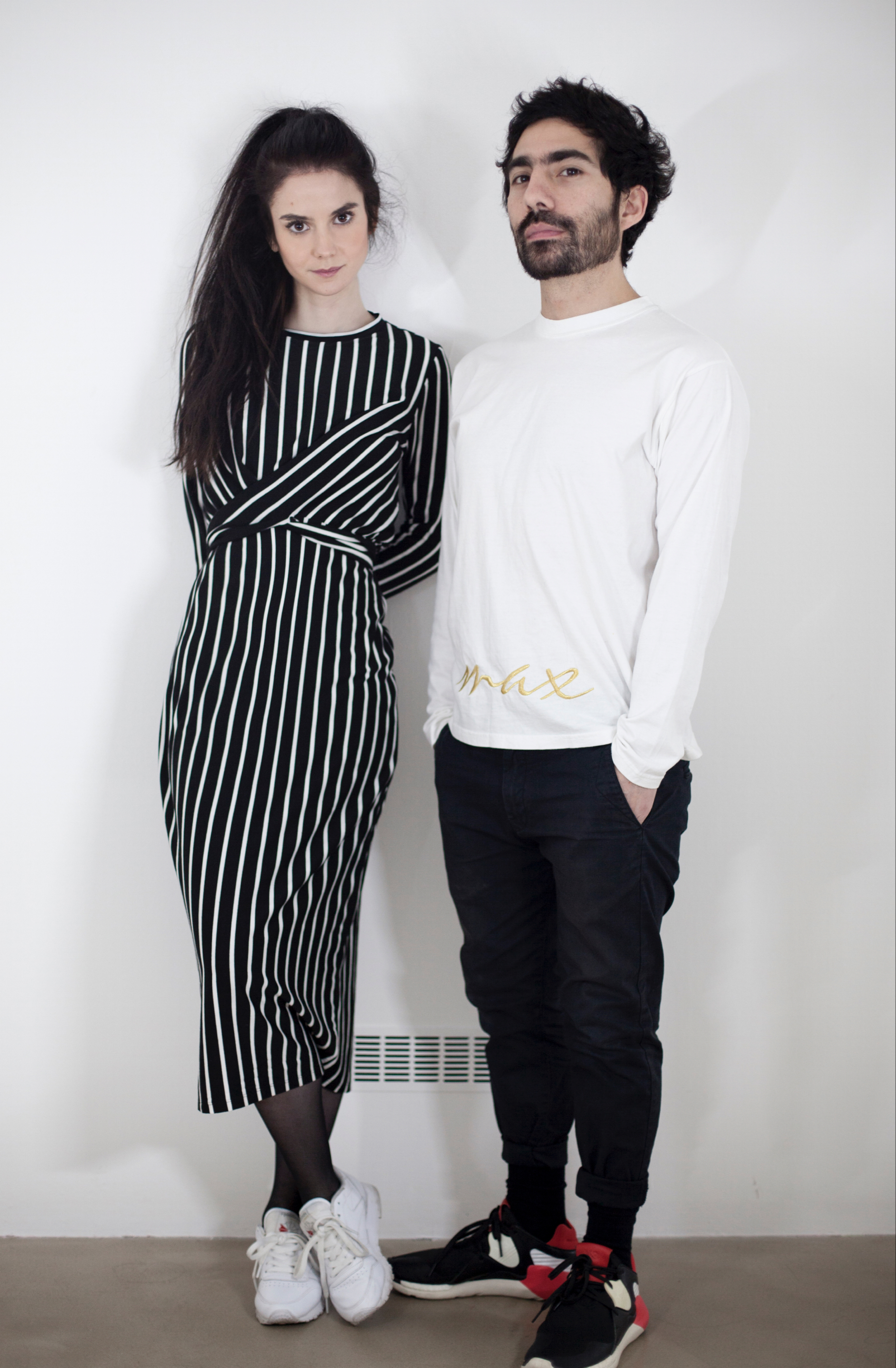 SELECTED SOLO EXHIBITIONS

2023 Feeler, LRRH, Düsseldor, DE
2022 Xenoptyx, Horizont Gallery, Budapest, HU
2020 PULSE, Kápolna, Budapest, HU
2019 All Direction Is Curved, All Motion Is Spiral, Easttopics Gallery, Budapest, HU
2018 Phase In, Phase Out, Horizont Gallery, Budapest, HU
2017 Cuatro Tiempos, Trafó House of Contemporary Arts, Budapest, HU
2017 Sensorium, Trafó House of Contemporary Arts, Budapest, HU
2016 New Ways of Viscosity, Collegium Hungaricum Berlin, DE
2015 Sensescapes, Studio of Young Designers Association (FISE Gallery), Budapest, HU

PERFORMANCES

2023 SHAPE+
2023 Prague Quadriennale, CZ
2022 Teren, Brno, CZ
2022 House of Music, Budapest, HU
2022 Róth Miksa Museum, Budapest, HU
2022 Quadrophonic perf. at MOME Sonic, HU
2022 bb15 Space for Contemporary Art, Linz, AT
2021 Cyland Media Art Laboratory, St. Petersburg, RU
2021 EXOSKELETAL, Sandbox, Budapest, HU2021 ADIS,AMIS, Rewire, The Hague, NL
2021 Tentacular Listening in the Chthulucene, Kolorado, Budapest, HU
2019 Folding Frequencies, LOM Space, Bratislava, SK
2019 Draping Sound, Dock 20, Lustenau, AT
2019 Sensorium, Trafó House of Contemporary Arts, Budapest, HU
2019 Back End, Studio of Young Artists' Association (FKSE Gallery), Budapest, HU
2018 A.I. is the new electricity, Brain Bar Budapest, HU

SELECTED GROUP EXHIBITIONS

2023 Smithsonian's Hirshhorn Museum, Washington DC, US
2022 Extended Present, Ludwig Museum, Budapest, HU
2022 Contextile Biennial, Guimares, PT
2022 Material Thinking, International Contemporary Material Art Biennale, Qingdao, CH
2022 HAUNT // frontviews, Berlin, DE
2022 FILE Digital Arts Festival, Sao Paolo, BR 2021 Esterhazy Art Award, Ludwig Museum, Budapest, HU
2021 Miart, Horizont Gallery, Milan, IT2021 Ars Electronica .ART Gallery2020 DECODE Award 2020, Faur Zsófi Gallery, Budapest, HU
2020 Ars Electronica .ART Gallery
2020 EMAF European Media Art Festival, Osnabrück, DE
2020 Parallel Realities, Hungarian Cultural Institute, Istanbul, TU
2019 Textiel Techniken, Dock 20, Lustenau, AT
2019 SETUP, MAMU Gallery, Budapest, HU
2019 Sensorium Festival, Pistoriho Palace, Bratislava, SK
2019 Future Tribal, Kolorado Festival, Budapest, HU
2019 Dutch Design Week, NL
2019 Milan Design Week, IT
2018 Parallel Realities, Gallery D17, Budapest, HU
2018 Networks, Moholy-Nagy University of Art and Design, Budapest, HU
2018 Sensorium, Kolorado Festival, Budapest, HU
2017 Sound and Matter in Design, Design Museum Holon, Tel-Aviv, IL
2017 Packet 1., Ex Post Gallery, Prague, CZ
2017 Whipstitch: The State of Contemporary Textiles, Ann Arbor Art Center, Michigan, US
2017 All Around Us, Kunsthalle, Budapest, HU
2017 YouFab Global Creative Awards, Hikarie 8 / CUBE1,2,3, Tokyo, JP
2016 Talking Textiles, Wanted Design, New York, US
2016 Foreground Background, Omnivore Gallery, Budapest, HU
2015 Textile Structure for New Building, Techtextile, Frankfurt, DE

AWARDS, SCHOLARSHIPS, RESIDENCIES

2022 IN-SONORA, Madrid, ES
2022 Beyond Quantum Music, EU Creative Europe
2021 Esterhazy Art Award nominee
2021 Oscillations: Exersices in Resilience, international exchange program, Co-funded by the Creative Europe Program (iii, Overtoon, bb15)
2020 Instrument Inventors Initiative (iii), invited artists in residence, The Hague, NL
2020 Japan Media Arts Festival, Jury Selection, Tokyo, JP
2020 DECODE Award, Promising Project, BORD Architectural Studio, Budapest, HU
2019 Hungarian Design Award, Budapest, HU
2018 National Cultural Fund, Budapest, HU
2017 New National Excellence program, Budapest, HU
2017 Campus Mundi Scholarship, Milan, IT
2017 WORTH Partnership Program, funded by the European Commission under COSME, Milan, IT
2017 Highlights of Hungary, Budapest, HU
2016 Hungarian Eötvös State Scholarship, Budapest, HU
2016 YouFab Global Creative Awards, Tokyo, JP
2016 Dorothy Waxman International Textile Design Prize, New York, US
2015 Techtextil, Material Innovation Category, 1st Prize, Frankfurt, DE
2015 Paillard Centre d'Art Contemporain & Résidence d'Artistes, Poncé Sur Le Loir, FR
2013 Doctoral Scholarship (Judit Eszter Kárpáti) at Moholy Nagy University of Art and Design, Budapest, HU

COMMISSIONS

2022 LRRH_ Gallery, DE
2021 Trafo Gallery, Subnature, Technorganic sound system, Budapest, HU
2020 DIOR, Air Dior interactive installation for worldwide release, Chengdu, CN
2019 Perceptual Thinkers, collaboration, creative technology, Budapest, HU
2019 Radioactive: Marie Curie Film, embedded electronics and soft circuitry, Budapest, HU
2017 Blade Runner 2049, embedded electronics and soft circuitry, Budapest, HU
2019 Esporte Clube Bahia, Camisa Camuflada, creative technology, Salvador, BR
2018 Queen Mary University of London, BELA.IO interactive sound design, London, UK
2018 Material ConneXion, Soft Sound, New York, US
2018 T-Systems Hungary, creative technology, interface design, Budapest, HU
2018 Brain Bar Budapest, live performance/installation, Budapest, HU
2018 Lucerne University of Applied Sciences and Arts, Wearable Futures course, Luzern, CH
2018 Petra Ptackova, Mercedes-Benz Fashion Week Prague, collaboration, Prague, CZ
2018 Lucerne University of Applied Sciences and Arts, workshop, lecture, Luzern, CH
2017 FINA Swimming World Cup (opening ceremony), creative technology, Budapest, HU
2017 WORTH Partnership Project, Milan, IT
2017 Isobar Hungary, creative technology, interface design, Budapest, HU
2016 Budapest Metropolitan University, course, lecture, Budapest, HU
2016 - ongoing Moholy-Nagy University of Art and Design, courses, lectures, master and doctoral diploma consultant I Budapest, HU